Sex:
Stallion
Color:
Dark Bay Tovero Pinto (Tobiano/Splash white)
Registry:
AMHA/AMHR
DNA Tested:
YES
Birth Date:
June 25. 1993
Height:
31.5"

Comanche has
Big, Beautiful,
Bright Blue eyes!!

We were most fortunate to have the opportunity to purchase Comanche Warrior in 2008 for our breeding program. He is a stallion that I had very much admired when we first started showing miniatures in 1995. So when we had the chance to add him to our breeding program, I jumped on the opportunity and have never regreted it for one moment. Comanche had an awesome show career in the few years he was shown and a listing of some of his many championship wins are listed below. We are most thankful to the Haydens for selling this distinguished stallion to us. His sire is Jandt's Bay N Bee, 31.5" & his dam is Lady Blue Eyes, 33". I am so excited about the foals he is producing out of our mares. You can see some of them at this link.... foals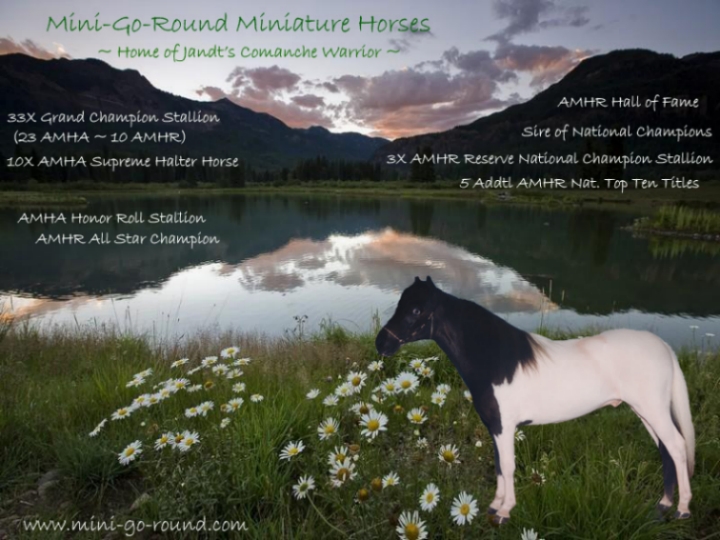 See below for a partial listing of
Comanche's WINNINGS!

Comanche's Show Record

AMHR Hall of Fame in Halter.
3X AMHR Reserve
National Champion
33X Grand Champion Stallion
(23 AMHA, 10 AMHR)
10X AMHA Supreme Halter Horse,
5 additonal Top Tens AMHR,
AMHA National
Honor Roll Awards,
Multiple National
ALL STAR Awards,
Multiple MMHC & NDMHC High Point Awards,
Sire of National Champions
& the list goes on!!
Contact us at: E-mail: cindy@mini-go-round.com Phone: 1-479-640-7381