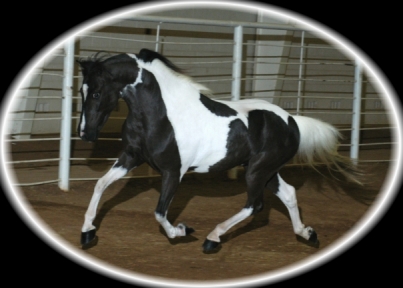 JC's Diablo is out of two Hall of Fame parents. His sire, Z.J.'S Windwalker, is the sire of such outstanding show horses as JC's Geshan (AMHR National Grand Champion Stallion), JC's Jenga (AMHR Grand Champion Stallion), JC's Leif (AMHR Reserve National Grand Champion), and many others. Diablo's dam, Pony-Vista's Hollie Hobbie, is also the dam of Diablo's full sister, JC's Diamond (National Champion Model Mare, National Champion Open Pleasure Driving, National Champion Youth Halter Mare, and National Champion Youth Pleasure Driving).
Below is a summary of some of his winnings. See his show page for more extensive listing.
Show record: 2000 Congress Grand Champion Classic Pleasure Driving Stake Over, 2000 Congress Champion Classic Open Pleasure Driving, Over, 2003 Congress Champion Classic Amateur Incentive Gelding and 2003 Congress Champion Classic Youth Showmanship, 13-17; 1999 Congress Champion in Amateur Pleasure Driving, 1999, 2002, 2003, and 2006 Congress Champion in Multi-color, 1999 Congress Futurity Champion Three-year-old Pleasure Driving, 2003 PtHA World Champion Tobiano Color Pony All Types, multiple PtHA National Top Ten, multiple (8X) Congress Reserve Champion in Amateur Stallions, Aged Stallions, Model Geldings, Classic Liberty, Classic Youth Showmanship, Youth Geldings, Youth Pleasure Driving, multiple World Show (Ohio) Champion and Reserve Champion, multiple (19X) Congress Top Tens, 2000 Classic Performance Pony of the Year, multiple (22X Area & 7X National)All Star Champion and (4x Area & 2x National) All Star Reserve Champion, multiple (13 X) All Star Top Ten, Hall of Fame in Halter in 2002 and in Pleasure Driving in 2000. Also numerous high point year end youth awards.