RFP Waiting For The Right Time:
aka: Melissa
Contact us at: E-mail: cindy@mini-go-round.com Phone: 1-479-631-7045
| | |
| --- | --- |
| SIRE: | Cres-or-lar's Prime Time |
| DAM: | Z.J.'s Stop The Music |
| Sex: | Mare |
| Color: | Bay |
| Registry: | ASPC |
| Foaling Date: | 5/23/2000 |
| For Sale: | Yes |
| Remarks: | Melissa is a spectacular daughter of the late, famous modern stallion, Cres-or-lar's Prime Time. True to form for a Prime Time daughter she has awesome natural motion and will make a superb cart horse. We showed Melissa in halter, showmanhip and liberty in 2006 and she did very well. We intended to get her in the cart, but unfortunately we had too many horses to show and not enough exhibitors. We very much appreciate the Roberts family for giving us this rare opportunity to own a Prime Time daughter, and we very much regret having to part with her. But, with our daughter Tammy just recently graduated from law school, and pursuing her business career now, we need to find Melissa another show home. Let Melissa win for you, then produce beautiful foals with natural winning action!! |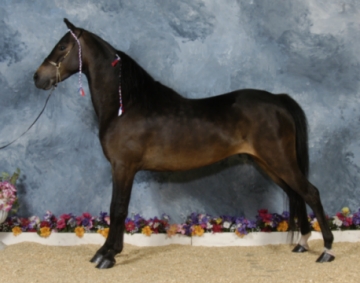 See a listing of her Congress & World Show Wins Plus
National & Area All-Star winnings below.
2006 ASPC National All Stars
4th Modern Model Mare - 2 yrs & older - 46" & under
5th Modern Liberty - 46" & under
6th Modern Mare - 3 yrs old & older - Over 43" - 46"
8th Modern Youth Halter, Mare/Gelding, 46" & under
10th Modern Pleasure Mare - 3 yrs old & older - 46" & under
? Modern Youth Showmanship
2006 ASPC Shetland Congress
1st Congress Champion Modern Solid Color Stallion/Mare/Gelding
2nd Congress Reserve Champion Modern Youth Showmanship, 13-17
6th Congress Top Ten Modern Pleasure Mare 3 yrs & Over, 46" & under
9th Congress Top Ten Modern Youth Mare/Gelding, 13-17
2006 ASPC/AMHR/ASPR World Show
2nd Reserve World Champion Modern Shetland Showmanship, 13-17
6th World Show Top Ten Modern Shetland Mare, 3 yrs & Older, Over
6th World Show Top Ten Shetland Mare or Gelding Youth
2006 ASPC Area V All Stars
1st Area V Champion Modern Model Mare - 2 yrs & older - 46" & under
1st Area V Champion Modern Liberty - 46" & under
1st Area V Champion Modern Mare - 3 yrs old & older - Over 43" - 46"
3rd Modern Youth Halter, Mare/Gelding, 46" & under
3rd Modern Pleasure Mare - 3 yrs old & older - 46" & under
? Modern Youth Showmanship

~ Copyright 1997 to present ~ All Rights Reserved ~