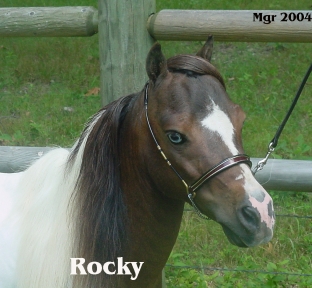 ROCKIN' J PLAYBOYS ACE (ROCKY)
Rocky is a very small 29 1/2" TRI-COLOR Bay HOMOZYGOUS TOBIANO PINTO
with blue eyes. He is AMHA/AMHR registered and is producing foals
with lots of color. Rocky's pedigree includes extensive
BOND, KOMOKOS, & HOBBY HORSE Breeding.
His grandsire's include the famous BOND JOCKO 26"
and SAN ANTONIO GAMBLER 28 1/2".
Click here to view Rocky's pedigree.

This page dedicated to the memory of ROCKY...
our very first miniature horse stallion...and a very special one to us he was.
Rocky left us on August 21st, 2006 (due to infection from an eye injury),
but he will always remain with us in our heart and memories,
and may he live on through his outstanding offspring...
many of which are listed on his foal page!
We love you Rocky and miss you very much!!!
Click here to meet some of Rocky's offspring!!
Background Design by
JFF Miniature Horses