Our Appaloosa Stallions
Contact us at: E-mail: cindy@mini-go-round.com Phone: 1-479-640-7381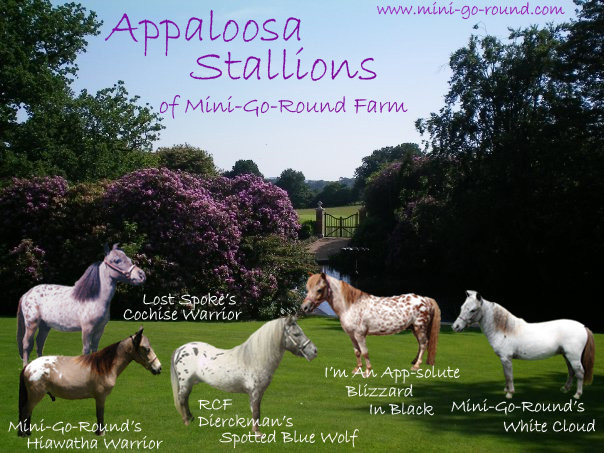 Horses marked with a Red Star are NOT FOR SALE at this time. All others are For Sale. Please inquire for prices.
Click on each photo below for more details & larger photos

RCF DIERCKMAN'S
SPOTTED BLUE WOLF
AMHA/AMHR, 30"
Black Leopard Appaloosa
Son of Komokos Blue
Eagle, Grandson of Komokos
Leopard Eagle and Peaceful
Valley's Little Chief.
For Sale


MINI-GO-ROUND'S
PICASSO
AMHA/AMHR Black
Pintaloosa Son of
RCF Dierckman's Spotted
Blue Wolf X Shadow
Oak's Prudence, a granddaughter of
the 100% Falabella mare, Regina, of the
famous Regina Winery. Regina was the dam
of the 100% Falabella stallion, Pepper.
For Sale

MINI-GO-ROUND'S
HIAWATHA WARRIOR
AMHR, TINY BUCKSKIN
APPALOOSA STALLION.
Hiawatha is a son of Lost
Spoke's Cochise Warrior
whose pedigree includes
Falabella bloodlines.
For Sale

LOST SPOKE'S
COCHISE WARRIOR
NOT FOR SALE
AMHR 28 1/4", 1/2 Falabella,
Bay Leopard Appaloosa
Grandson of Grosshill's Comofin,
who is a 100% Falabella
black leopard appaloosa
imported from Argentina

We only have the 3 appaloosa
stallions show above left for sale
at this time, as we are not
currently breeding. Our
appaloosas have been very popular
and most have been sold. We thank
you all for purchasing our horses.


MINI-GO-ROUND'S
APPY ORION IMAGE
NOT FOR SALE
AMHA/AMHR
Black Pintaloosa son of Brewer's Orion
Image & a grandson of the famous.
Orion Light Van't Huttenest.
Dam is Grosshill's Appy Ending,
a black leopard appaloosa mare.
Contact us at: E-mail: cindy@mini-go-round.com Phone: 1-479-640-7381

~ Copyright 1997 to present ~ All Rights Reserved