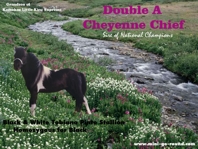 DOUBLE A
CHEYENNE CHIEF
AMHA/AMHR 33 1/2"
Black & white Tobiano Pinto,
Grandson of Komokos Little
King Supreme
NATIONAL CHAMPION PRODUCING SIRE.
SIRE OF AMHR NAT. CHAMPIONS, MINI-GO-ROUND'S
PAINTED BANDITO, MINI-GO-ROUND'S
LEOPARD PRINCESS; & AMHR NATIONAL TOP TEN
CHAMPION MARE , MINI-GO-ROUND'S
PAINTED BONITA.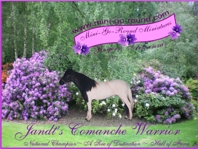 JANDT'S COMANCHE
WARRIOR
AMHA/AMHR 31.5" Bay & white Pinto stallion w/ BLUE eyes.
AMHR Hall of Fame in Halter.
3X AMHR Reserve National Championships.
33X Grand Champion Stallion (23 AMHA, 10 AMHR) 10X
AMHA Supreme Halter Horse,
5 additonal Top Tens AMHR,
AMHA National Honor Roll Awards,
Multiple National ALL STAR Awards,
Multiple MMHC & NDMHC High Point Awards,
Sire of National Champions & the list goes on!!