Remarks:
Risky is a fewspot appaloosa mare that has been my best appaloosa producer. Fewspot appaloosas are the BEST color producers of all appaloosas. She has been bred 7 times to my black & white tobiano National Champion producing stallion, Double A Cheyenne Chief, and 6 out of 7 foals have been loudly colored appaloosas or pintaloosas. Out of Chief she has produced Mini-Go-Round's Leopard Princess, LOUD black leopard appaloosa mare, Mini-Go-Round's Geronimo Chief, black leopard appaloosa stallion, Mini-Go-Round's Chief Crazy Horse, Loud black leopard pintaloosa colt, and Mini-Go-Round's Image of Chianti, a loud black spotted leopard appaloosa stallion, Mini-Go-Round's Comanche Chief, a LOUD black leopard colt, Mini-Go-Round's Chief's Cheyenne, a solid black filly, and Mini-Go-Round's Apache Chief, LOUD black pintaloosa colt. She is also the dam of Mini-Go-Round's Orion's Raindancer, a black blanketed with spots appaloosa stallion, who was her first foal and was by Fun Farms Martin's Major League. Risky's dam, Hocott's Yum Yum, is a daughter of Shadow Oak's Sampson, who is a double bred son of the Legendary Pepper, who is a son of the famous Chianti. Her sire Magnolia Farm's Geronimo, is a son of Legendary's Bullet, a black leopard appaloosa.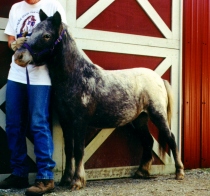 Risky, as a young mare, still showing
her black base color.